Exploring the Life and Works of Edgar Rice Burroughs
FAQs, Articles, Reviews, Persona Directory, Hall of Memory
Summarizing ERB's works one chapter at a time
Shorts, Novels, Poetry, Plays, Pulps
Articles, Contributors: Tangor Responds, Edgardemain, ERB: In Focus, Nkima Speaks, Beyond 30W, Tantor Trumpets, Dime Lectures, Korak in Pal-ul-don, Public Domain novels of ERB
Worlds of: Barsoom, Pellucidar, Moon, Amtor, Caspak, Pal-u-don
ERB CONVENTIONS AND FAN GATHERINGS
EVENTS
Items are posted chronologically. The NEWEST entries appear at the TOP.
---
ECOF 2009 Photos by John Martin
---
ECOF 2002
The Los Angeles SubERBs (in cooperation with the Panthans)
Host the 2002 ECOF
Woodland Hills, CA
WHAT: The annual ECOF (Edgar Rice Burroughs Chain of Friendship), and Birthday Bash. Every year ERB fans and friends gather together twice: once for the Dum-Dum (this year hosted by Brad Vinson in May in Texas) and the other, smaller event, the ECOF.
WHEN: August 30-September 1, 2002 (Labor Day weekend). ERB's birthday is September 1st.
WHERE: Right down the street from Tarzana at the:
Holiday Inn

21101 Ventura Blvd.

Woodland Hills, CA

818-883-6110

If you mention the ECOF, the room rates are $79 per night, double occupancy (or $89 if you want a breakfast buffet for two).
There is shuttle service available.
Free parking.
Free local calls.
For LATEST UPDATES to the ECOF 2002 event see the event's official website at http://www.jeddak.com/ecof.html
Tentative events:
Tours of ERB, Inc.
Tour of the old ERB Estate.
Danton Burroughs presents old ERB home movies.
Red Hawk Hike to be led by Tracy Griffin
Huckster room and BB auction
Presentation of papers on the pulp fiction of ERB
Burroughs Bibliophiles board meeting
The Weakest Link -- ERB version
---
Dum-Dum 2002
WARLORD OF MARS
Hosted by S. B. Vinson
BRYAN-COLLEGE STATION
(Texas A&M University)
May 23 - 26 (Thursday through Sunday)
REGISTRATION: $85 ($95 at the door)
Includes Barbecue and Saturday night banquet
BRAD VINSON
921 N. Rosemary,
Bryan, Texas 77892 USA
Phone: 979.846.5577
Bvinson@tamu.edu
GUESTS and ATTRACTIONS
Joe Lansdale - Author
Scott Beachler - Artist: The Mars Trilogy ~ Bison
Showing over a dozen ST. JOHN originals and two SCHOONOVERS
Discussion group on the Mars stories
Huckster Room: Thursday thru Saturday
Hotel: Hilton Hotel and Conference Center
801 University Drive East
College Station, Texas 77840

Room Rate: $74 per night single or double
Reservations: 979.693.7500
TRAVEL
AIR:
College Station airport is two miles west of the Hilton Hotel and is serviced by commuter flights from either Houston or Dallas.
Arriving Dallas, the commuter flight is American Airlines
Arriving Houston the commuter flight is Continental Airlines
CAR:
4 hours south of Dallas
1 hour north of Houston
2 hours east of Austin
3 hours northeast of San Antonio
Map showing Houston, Dallas, San Antonio and Austin
Also see Hillman's DD2002 page.
---
Dum-Dum 2002 - A REPORT
TANGOR'S FIRST DUM DUM
Dum Dum 2002, for me, started when Laurence Dunn arrived in Houston May 21st around 3:00pm on a gorgeous and glorious weather day for Gulf Coast Texas. Nowhere as ferocious and fierce as previous reports regarding the Bloody British Hooligan, Laurence and I gabbed and chatted for several hours, and he was gracious enough to tour my small bookstore (The Brown Bag) without laughing. I had a previous commitment to do recording that evening with my band, Grey Foxxe, and did not return to the Hacienda until after Laurence retired for the evening--it had been a LONG overseas flight!
Dunn left the Hacienda about 10 am Wednesday morning to meet Steve Wadding (Ghak) for a day tour of Johnson Space Center. Late afternoon he came back to The Brown Bag where we talked some more! That evening we took Laurence to Los Tios, a favorite Mexican restaurant of Mrs. T's. My brother James (Barney Custer) joined us. We had a preview of an upcoming ERB project of his, ate a pleasant dinner, then returned to the Hacienda to continue swapping stories, speculating about ERB's works, and in general having a grand old time! We viewed Tangor's pitifully small, yet highly unique and treasured!, collection of ERB and ERB related hardbacks. Jet lag, however still plagued Laurence, so the brothers Bozarth relented just shy of midnight.
Laurence left for College Station the next morning, vowing to terrorize American drivers by driving on the wrong side of the road! :)
Saturday morning, er...near noon... Tangor and Mrs. T. left Houston for the 90 mile drive to College Station, arriving about 1:30pm. The Hilton, a 10 story building near Texas A&M University, had a pleasant lobby. In mere moments did I meet an ERB fan and barely a dozen heartbeats later I was escorted into the midst of the gathering.
Greeting old friends and meeting other old friends from the listservers for the first time resulted in much handshaking and mutual admiration. Perhaps a dozen tables were setup in the Huckster Room. John Tyner was gracious in sharing his table for the few items I had brought to the gathering. More on the hucksters in a moment, for Mrs. T and I had arrived in time to attend a panel, which we were told, was created only the night before!
"Professor Porter," J G Huckenpohler, chaired the panel, which was as discussion regarding Barsoom and ERB's Science, Biology, and a Recent Reader's View. Huck's opening remarks dealt with the possible sources, then available to Burroughs and accepted in science and astronomy. Citing Lowell and others for providing the basis of the canals on Mars, Huck passed around 5 or 6 maps from the turn of the 20th Century.
Jim "OJT" Thompson was the second speaker. His discussion embraced the biology of Barsoom from the viewpoint of a biologist. One discussion point was the suggestion of a terrestrial parallel of multi-limbed cehalopods--nautilus, octopus, squid, and their prehistoric ancestors--as the possible evolutionary link for the multi-limbed animals and green martians from the ancient oceans of Mars. The question of how a martian human (including the green martian) might grow from goose egg size to two-and-a-half feet in diameter was speculated (a recent topic at ERBList). Jim held a question and answer session then turned the floor over to D J "Usha" Howell.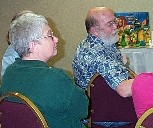 Dorothy's presentation was that of a reader CURRENTLY reading the Barsoom stories. Having recently read seven of the novels (leisurely during her morning baths) she noted the words of Burroughs. Burroughs' stories remain readable to this day because his science was good, but not expressed, his creations and creatures where interesting, yet not repetitive, and he never wrote down to the reader. She brought the viewpoint of one who had read the books early in life and had not been excited; yet, years later the Barsoom books had become fresh and new and new things were found this time around. Usha suggested that ERB wrote on many levels, the ordinary adventure that excites young minds, the philosophical level that sparks thought and wonder, and the human level of relationships.
There was a break of 20 minutes before the next event: the Auction, so I toured the tables. Conran, Ross, and Morse had the most extensive offerings, and boy, did I drool! Jim Savage (Lazy S Books), a local Texas boy also attending his first Dum Dum, had a near equal offering. I'm sorry...I met so many people today that I cannot remember all the names this evening as I write this report, but I'll get them and update this later!
Bob Hibbard (Waldo) brought name tags for those he knew was attending. The approximately 3 1/2" leather pinback is "branded" with the person's name, the ERB "doodad" (mine, anyway!) DUMDUM and '02. Very neat little item and very Texas! Bob also brought a series of framed pictures, one an original Hogarth, for viewing.
About that time Tarak (Bob Woodley, listmeister of THBlist and former member of ERBList and ERBCOF-L) appeared. The club-wielding Texican and the wordy Savage Barbarian gauged each other from across the room, then engaged each other in a titanic handshake while the rest of the gathering breathlessly waited to see what happened. :)
Thandar (Ken Fuchs p. "fox") delivered a long-awaited Texas ERB Wake package at this, also his first Dum Dum. We discussed our upcoming joint project which embraces items from early issues of The National Geographic, Paul Du Chaillu, and Edgar Rice Burroughs.
Bill Morse and I had a wonderful converstation regarding intellectual property copyrights at the "smoking center" -- the back door of the Hilton. Bill's knowledge of ERB's early business ventures in film and radio is astonishing. I knew quite a bit in this area before, but Bill's information filled in heretofore unknown immense gaps!
Thompson and I spoke of the ECOF2000 CD project. I had brought a master of the present project that is "okay" for release, but in the last few weeks I have been updating the project with new material. It was agreed to wait for the new stuff. If all goes according to plan I'll have the ECOF2000 CD completed in the next week to ten days.
In the meantime Jim and I will complete the list of people, including the contributors, who will receive a copy.
George McWhorter looked grand! What a fellow! He was very active during the first Auction. It was good to see him again. When I asked Bill Ross later, it appeared the Auction had gone well.
Predator (Dennis Wilcutt) appeared briefly. I have no idea what he was up to, but it wasn't in the huckster room.
Mrs. T did most of the photography you see on this page. She had fun, as well as some macaroons which were offered from the National Panthan's table. She also bid, and won, a National Panthan's t-shirt for me.
The afternoon waxing, the hucksters began to box their wares. More conversations with other smoking challenged fans (Huck, Tarak, George) ensured. During one of those sessions we looked at photographs of David Byrd's (Houston, and new member to ERBList) collection. What an eye opener!
I carried our small huckster offerings (and I made a few sales!) to the car. As I re-entered the Hilton Thandar and Tarak were amusing themselves with their digital cameras. A photofest then ensued, Tarak determined to overcome the Texican by flash photography. Tarak then showed Wayne James, his wife, Thandar and me the second batch of photographs taken of Brad Vinson's extraordinary collection of original St John, Schoonover, Frazetta, etc. There must have been upwards of 35 images. I hope Tarak will eventually make the images available on the web--that 1" by 1-1/2" screen simply did not do these paintings justice.
Folks were getting ready for the banquet--and then Pete Ogden entered the lobby in blue jacket, slacks, white shirt and tie. Elegant, and a nice fellow, too! More group images were shot as more came down from their rooms, and eventually Mrs. T found me.
The time was a quarter after six.
The banquet was scheduled to start at six-thirty.
Sadly, Mrs. T and I could not stay. We had come up for the afternoon and had to return to Bellaire (a city surrounded by Houston) that evening. Much handshaking (Tarak returning six times!) ensued as we said goodbye. We left College Station, filled with warm memories.
My thanks to Brad Vinson and his wife for undertaking the Dum Dum event, and for his generous registration fee for the day's visit. Wish I had had the time to view his art collection!
To cap off the day I called Bob Zeuschner, who could not attend Dum Dum in Texas this year. After delivering exciting blow by blow descriptions of the event and the people I had met we both laughed. Can there be a more insane bunch of really nice people on the planet?
I think not!
Footnote: This narrative embraces five hours of the Texas Dum Dum 2002. One of these days I'll attend another. If one can have this much fun in five hours, imagine what it must be like for 72 or more!
---
Fans and collectors of Tarzan™
and the works of Edgar Rice Burroughs

In June 1999, the great apes gather to Dum Dum!

June 1999, in Tarzana, California, the 38th anniversary gathering of the Burroughs Bibliophiles, the official Edgar Rice Burroughs fan club.

The 1999 Burroughs Bibliophiles convention celebrated the life and works of Edgar Rice Burroughs, creator of Tarzan™.

Hosted by the Los Angeles SubERBs chapter of the Burroughs Bibliophiles

The Los Angeles SubERBs chapter of the Burroughs Bibliophiles were pleased to host: The 1999 Dum Dum on Thursday, June 10, through Sunday, June 13, headquartered near ERB's former Tarzana ranch and office, at the Warner Center Marriott Hotel, 21850 Oxnard Street, at Topanga Boulevard, Woodland Hills, California, 91367.

Events include:


| | |
| --- | --- |
| | "Huckster Room" featuring an array of ERB and Tarzan material for sale |
| | Book and autograph signings by authors and celebrities to be announced, including former screen Tarzans. |
| | Awards banquet honoring fans and celebrities for their contribution to the legacy of Edgar Rice Burroughs. |
West Coast Celebrities Slated to Attend

Artists

Tim Burgard (storyboard artist, Mighty Joe Young; fanzine artist, Erbania)

Alex Nino (Disney artist; DC Korak artist; Russ Manning's inker)

Mike Royer (Disney artist; Russ Manning's inker)

Dave Stevens (creator of The Rocketeer; Russ Manning's inker)

Bill Stout (internationally acclaimed dinosaur artist; production designer on Princess of Mars; (Russ Manning's inker)

Tom Yeates (Malibu and Darkhorse Tarzan comics artist; syndicated Zorro strip)

Authors and Screenwriters

Jim Bergen (Price and Reference Guide to the Works of ERB, 4th Ed., 1996)

Stuart J. Byrne aka John Bloodstone (Tarzan on Mars, 1955)

Howard Green (The Tarzan Chronicles, 1999)

Bayard Johnson (screenwriter, Tarzan and the Lost City)

Chuck Pogue (screenwriter, A Princess of Mars, Dragonheart, Kull the Conqueror;

novelist, Dragonheart, 1996)

Marcia Lincoln Rudolph (My Father Elmo Lincoln, the Original Tarzan, 1999)

James Van Hise (Edgar Rice Burroughs' Fantastic Worlds, 1996)

Bob Zeuschner (Edgar Rice Burroughs: A Bibliography for Scholars and Collectors, 1996)

Special Guests

Danton Burroughs (President/Treasurer, ERB Inc.; ERB's grandson)

Edward Gilbert (ERB's brother-in-law)

Guest of Honor: Forrest J. Ackerman "Mr. Sci Fi"

---

Itinerary

Wednesday, June 9

6 p.m. Earlybird dinner

Thursday, June 10

8 a.m. Registration begins/Huckster Room open

9 a.m. First Tour ERB, Inc.

TBA Book crawls; field trips; special screenings

5 p.m. Huckster Room closes

Friday, June 11

8 a.m Huckster room open

9 a.m. Second tour of ERB, Inc. offices for latecomers

10:30 a.m. Remembering Russ: A Tribute to Russ Manning by his collaborators

1:30 p.m. Q & A with Eddie Gilbert

5 p.m. Huckster Room closes

7 p.m. Disney's Tarzan advance screening

Saturday, June 12

9 a.m. Huckster Room open

TBA Book crawls; field trips; special screenings

TBA Q & A with Stuart J. Byrne

1:30 p.m. Bibliophile auction

6 p.m. Cocktails - Hotel Bar

7 p.m. Banquet

(Guest of Honor: Forry Ackerman)
WHAT IS DUM-DUM?
. . . the tribe was gathered about a small natural amphitheater which the jungle had left free from its entangling vines and creepers in a hollow among some low hills. . . In the center of the amphitheater was one of those strange earthen drums which the anthropoids build for the queer rites the sounds of which men have heard in the fastnesses of the jungle, but which none has ever witnessed.
Many travelers have seen the drums of the great apes, and some have heard the sounds of their beating and the noise of the wild, weird revelry of these first lords of the jungle, but Tarzan, Lord Greystoke, is, doubtless, the only human being who ever joined in the fierce, mad, intoxicating revel of the Dum-Dum . . . The rites of the Dum-Dum marked important events in the life of the tribe, a victory, the capture of a prisoner, the killing of some large fierce denizen of the jungle, the death or accession of a king, and were conducted with set ceremonialism.
. . . At length as darkness settled upon the jungle the apes commenced to bestir themselves, and soon they formed a great circle about the earthen drum. The females and young squatted in a thin line at the outer periphery of the circle, while just in front of them ranged the adult males. Before the drum sat three old females, each armed with a knotted branch fifteen or eighteen inches in length.
Slowly and softly they began tapping upon the resounding surface of the drum as the first faint rays of the ascending moon silvered the encircling tree tops.
As the light in the amphitheater increased the females augmented the frequency and force of their blows until presently a wild, rhythmic din pervaded the great jungle for miles in every direction. Huge, fierce brutes stopped in their hunting, with up-pricked ears and raised heads, to listen to the dull booming that betokened the Dum-Dum of the apes.
Edgar Rice Burroughs,
Tarzan of the Apes, Chapter 7
DUM DUM Souvenirs
A limited number of souvenirs remain. Cost of a complete souvenir package is $35. This includes shipping costs and the following items:
T-Shirt with original Bill Stout design ($15). The shirt is a Hanes pre-shrunk "Beefy T" in olive green printed with a black and white logo of Tarzan wielding a large knife and the wording "38th Anniversary Edgar Rice Burroughs Bibliophiles Dum Dum". We only have small, medium and large; extra large and double extra large shirts can be purchased from Bill Stout for $20.
Souvenir Book ($10). This is a limited edition (300) book containing reproductions of the dedications and original artwork by Edgar Rice Burroughs to his brother-in-law Eddie Gilbert, reprinted from Eddie's personal collection of ERB books. These original comments and artwork by the Master of Adventure have never been seen by the public, and will probably never again be printed! Black and white, softcover, 8" x 5 1/2", with heavy cardstock covers and slick pages like those of the Burroughs Bulletin.
Button ($1). This 2" x 3" vertical pinback button contains the Stout logo in black on a white background
Program Booklet ($1). Contains information on guests, agenda, banquet, and other events. Printed in blue ink on light blue paper; 8" x 5 1/2", 8 pages. If you'd like the Banquet Toastmaster (me) to inscribe it, let me know.
Envelopes ($5). Two commemorative envelopes containing the Tarzana post office cancellation. The first envelope is white with the Stout logo on the left side. The second envelope is buff with a brown St. John "Tarzan and the Golden Lion" logo on the left and contains the cancellation from the Tarzana station's founding in 1990 in pink ink. The Dum Dum cancellation will be stamped below the original cancellation. The Dum Dum cancellation is fairly large and contains a bust of Tarzan by Burne Hogarth and the words: "Dum Dum Station, June 10-12, 1999"
A la carte orders are priced individually above. Please include $3 postage (total) for individual items. Make checks payable to the University of Louisville Foundation, and designate "Special Fund 621-121" somewhere on your check. Send to me at:
Scott Tracy Griffin
1453 14th Street, PMD #236
Santa Monica, CA 90404
Two other items still in stock are:
An Autobiography by ERB is a facsimile reprint of the original booklet by written by ERB as a promotional give-away for the Republic Motor Truck Co. It is approximately 7 1/2" x 4 1/2", with a brown cardstock cover (the original had a leather cover). It is 16 pages long and is an exact reproduction of the original text and illustrations. At $10, it's a nice addition to one's ERB collection, since it's been out of print since circa 1917. Proceeds go to George McWhorter.
The Best of the ERBAPA collects over thirty articles from the first ten years of ERBAPA (1984-1994). It's over two hundred pages of fan writing, coil bound, with original Tom Yeates art on the cover. Cost is $15; please write a separate check made payable to Scott Tracy Griffin.
Copyright © 1998 by Scott Tracy Griffin. Page design: David Bruce Bozarth. All Rights Reserved. Tarzan™ is a registered trademark of Edgar Rice Burroughs, Inc. and is used with permission.
Webmasters may copy and display this page and images or set links to this page without permission as long as the content and images are not altered in any way, other than a link placed at the bottom to return visitors to your calling page.
---