---

---
ERB in Focus
Robert Zeuschner
---
COLLECTING BURROUGHS ART
If you are reading this, there is a good likelihood that you've been bitten by the collector's bug. You can try to collect all the titles in paperbacks, or in hardbacks, or in hardbacks with dust jackets, or in hardback first editions with jackets, or even in original pulp appearances. One of the areas that is difficult but a lot of fun is collecting some of the wonderful art which the fantasy realms of Edgar Rice Burroughs have inspired.
Many ERB fans and collectors have large quantities of original art, but such collections can take many different forms.
I think that collecting ERB art has many different possibilities. You might want to have a few nice original works which depict Tarzan, or John Carter, or La, or Tars Tarkas. There are many fine young artists who excel at this sort of art. Fine artists like Tom Yeates, or Dave Hoover, or Frank Cho fit into this category. Their works are not prohibitively expensive, and they look fabulous when framed and hanging on your wall. How many pieces do you want? One? Three? Ten? Fifty? Clearly, your budget will be strained as you acquire more and more (but it is hard to stop once you get started).
A more serious (and wealthy) art collector might look for the previous generation of Burroughs artists whose work has become more valuable over the decades, people like Roy Krenkel, or the great Frank Frazetta. The older the art, the rarer the art. Unfortunately, a great deal of the ERB artworks which originally appeared in pulp magazines is simply gone. No one bothered to save the art. There are stories of publishers filling dumpsters with original artwork. No one wanted it. It's enough to make me cry!
There are many ways to think about collecting ERB artists. We could make a distinction between Burroughs artists who are no longer living, and those who are alive. We could talk about artists whose works were actually published commercially, and those whose artworks were never published, but are still attractive and desirable. We could talk about artists who illustrated the original Argosy or Blue Book pulp covers or interiors, or artists who illustrated Golden Age comic books, or those who painted the movie poster scenes. The most difficult to accumulate would be those images which were done for the original first edition hardbacks.
There is one thing that is important. That the work of art you buy is one that you love, that you could stand looking at for years without growing bored. Never purchase art because you expect it to get more valuable as the years go on. Some art will increase in value, and some won't. Buy what you love and then you'll be delightfully surprised if it increases in value, and you won't be disappointed if it does not appreciate in value. Maybe the easiest advice for a fledgling collector is "collect what you love."
Do you want to collect some ERB art? One place to start is with the exceptional artists whose works were used to illustrate ERB books commercially. There are several fine artists in this category, most no longer living. If money is no object, then you might try to collect actual artworks which were used to illustrate the earliest ERB hardback books.
The premiere Burroughs artist is J. Allen St. John, and the Burroughs art of St. John is especially desirable and especially valuable and rare. The first Burroughs book that St. John illustrated was the Return of Tarzan from 1915, and he continued to illustrate Burroughs books almost continuously until 1938, and then did ERB pulp illustrations for Amazing Stories and Fantastic Adventures into the 1940s. Very likely the largest collection of St. John art is owned by Edgar Rice Burroughs, Inc. J. Allen St. John is highly collectible, being sought after not only by Burroughs fans, but also by art collectors and fantasy and pulp art collectors. The values of original St. John artwork is influenced by the content. Art with either Tarzan or John Carter as its subject will be most desirable and most valuable; even black ink line art is worth ten thousand dollars or more. Color oil paintings by St. John are the most valuable. These pieces rarely turn up, and they are more likely to be found in auction houses like Sotheby's than local art stores or eBay (on the internet). If you are not incredibly wealthy, another possibility is acquiring reproductions of these original St. John oils. You can simply make color xerox images, but you can also purchase recreations of these oil paintings (authorized by ERB, Inc.) from Art Masterworks.
Another artist who has a similar stature among Burroughs collectors would be the amazing Frank Frazetta. Mr. Frazetta's artwork is extremely collectible and extremely valuable, partly because of the incredible talent and quality in Frazetta's works, but also because so few of the best pieces are available (the majority of the artwork is held by the family). These too are very rare and very expensive. Occasionally a finished drawing or line art by Frazetta shows up at auction, or even on eBay, but they are always several thousand dollars. These days, Frazetta oil paintings run into the hundreds of thousands of dollars. In the 1960s many Burroughs fans requested Tarzan art by Frazetta, especially Vern Coriell, the original editor and publisher of the Burroughs Bulletin, and Robert Barrett, the expert on Burroughs art.
A great and influential Burroughs artist is Roy G. Krenkel, whose color oils were used to illustrate many paperbacks, and whose numerous line drawings of Tarzan and John Carter and others, were shared so very freely with many Burroughs fanzines of the 1960s and 1970s. Krenkel's artworks were not especially valuable until more recently, and Krenkel's artwork is plentiful, although going up in value regularly. The internet auction site eBay often has Krenkel artwork available, with Burroughs subjects appearly fairly regularly.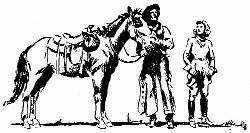 John Coleman Burroughs is a famous artist as well, but his ERB works are primarily held in the family and by ERB, Inc. JCB did a wide variety of art inspired by the American southwest, and this art does show up for sale from time to time.
There are an incredible number of other fine artists including Burne Hogarth, and Hal Foster, the earliest commercial artists who did Tarzan for the Sunday and daily comic book strips. There are several other Tarzan comic book artists whose work can be found occasionally at stores which specialize in comic book art.
Many fine ERB artists are still alive and working, such as Bret Blevins, Frank Cho, Michael Whelan, Joe Jusko, Jeff Jones, Gary Gianini, Neal MacDonald, Reed Crandell, Rich Corben, Al Williamson, Boris, Jim Cawthorne, Curtis Pardee, and our own Ken Webber and Robert Barrett. I'm sure there are many others whose names have simply escaped my mind at the moment.
In quite recent times there have been several exceptional artists who grew up reading ERB books, and felt compelled to illustrate their favorite scenes. These ERB artists produce works of very high quality, and their art is not too difficult to own. Thomas Yeates has illustrated several Tarzan comic books and done some of the interior art for "Tarzan: The Lost Adventure." Thomas works in both ink and in color, and his love for ERB's visions is clear in everything he does. William Stout is another contemporary artist whose Burroughs subjects are of exceptional quality and are available. Dave Hoover is another younger artist whose work is of high quality and available. Frank Cho is also a fine artist who does commission art. In fact, probably all of the living artists can be commissioned to do original pieces on request, and there is nothing nicer than owning a framed original done to your own specifications. The commissions are not as expensive as you might think.
If you have any interest in collecting some of the art which illustrates the amazing imagination of Edgar Rice Burroughs, the best place to start is by contacting living Burroughs artists, and actually commissioning specific pieces. The artists are always wonderfully nice human beings, and the art produced is something that you will be proud of for many decades to come.
Another possibility is the several internet web sites which specialize in original fantasy or comic art, and there is always eBay where original art shows up for the highest bidder.
There is a very inexpensive alternative to what I've described above. You can compile your own collection of un-original art. That is, use a xerox machine. Make xeroxed copies of that artwork that you really like. You can make enlargements, even color enlargements, and frame those. I've got three huge notebooks filled with xeroxed reproductions of ERB art and artists, and it is profoundly satisfying to thumb through those images. It isn't original St. John, or original Frazetta, or original Krenkel, or original Hogarth, or Hoban, or Yeates or Stout or ... But it is yours!
Good luck!