Exploring the Life and Works of Edgar Rice Burroughs
FAQs, Articles, Reviews, Persona Directory, Hall of Memory
Summarizing ERB's works one chapter at a time
Shorts, Novels, Poetry, Plays, Pulps
Articles, Contributors: Tangor Responds, Edgardemain, ERB: In Focus, Nkima Speaks, Beyond 30W, Tantor Trumpets, Dime Lectures, Korak in Pal-ul-don, Public Domain novels of ERB
Worlds of: Barsoom, Pellucidar, Moon, Amtor, Caspak, Pal-u-don
DOWNLOADS
WALLPAPERS, FONTS, FUN THINGS...
Items offered are known to work on the author's NT 4.x Server and Win 95/98 systems. It is assumed the downloader understands the use of ZIP files.
---
Wallpapers
A Baker's Dozen wallpaper images in one Zip. Download erbmaniawall.zip 1.1mb
F. W. Small's Tarzan - Textured wallpaper from a magazine interior. Tarzan and Histah - by Jake Jacobson. Colorized by Tangor. Cave Girl - A modification of the St John cover. Tarzan Art - Ink and pencil sketches of Tarzan, various artists. Ace Cover Art - Montage of details from Ace paperbacks. Tarzan - early Grosset & Dunlap dust jacket. Dee - From When the Princess Disappeared. Trapped - Unknown artist, probably circa 1930's. Thuvia and Chessmen - J. P. Monahan, modified. When the Princess Disappeared - Thomas Yeates' cover. Princess of Mars - Frank Schoenover famous illustration. People That Time Forgot - Roy G. Krenkel, Jr. from Ace SF Cover. Gold Key Covers - details from early Gold Key Tarzan comics.
Amtorian Font
Created by Tangor for the B.E.M. project, Baltimore Dum-Dum. Install font normally. Type desired text in a regular font then convert to Amtorian. Additional characters have been added that follow general English rules of punctuation; these characters do not appear in ERB's original Amtorian script.
Mephisto Font
Very similar to font used on ERB ACE editions, 1960s. Install font normally. Font is incomplete, Caps, Lower, Numberals, and some punctuation only.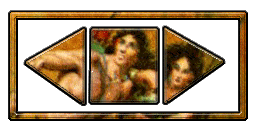 Tangor's Adventure Navigation Button
. Pure html code--no javascript. Works in all browsers.
Tangor's Library Database Common queries and general reporting are predefined. Microsoft Access 97 or later. Covers most library or collector needs. Millions of entries possible. Fields for valuation of user's collection and reporting of values are available. Export data as desired. Sample data--easy to delete--is included. Each screen has use/help.
Tangor's Library Spreadsheet in MS 97 Excel format Common AUTO FILTERS predefined. Covers most library or collector needs and will accept up to 65,000 entries. Fields for valuation of the user's collection are available, use Excel's AUTO SUM function to find out what your collection is worth! Sample data--easy to delete--is included. May be downloaded for personal use.
Tangor's ERB Bibliography Spreadsheet in Excel format as of Web Publication August 2000
Use this bibliography spreadsheet as a jump start for your library, research, or collection. Contains 622 LINE ITEM entries regarding the various editions and variations of ERB's publication history. Information on 30+ additional variants is found within the line data entries. May be downloaded for personal use. May be modified by user if modifications are shared with tangor@erblist.com . Excel 97 format will work with later versions of Excel.
Chulk's Collection/Checklist
MS Excel format, zipped. A quick and neat first edition and reprint listing of ERB's works in hardback; three tabbed worksheets in one Excel spreadsheet.
FameName - Tangor's elderly Quick Basic name generator. Datafiles to Name the Baby, Alien Names, Barsoomian Names, etc. Runs under DOS.. No support available. Provided AS IS. Not guaranteed to work. Zip File. 756kb.
Parody Book Jackets
For Adventures We'd Like To See!

---