---

---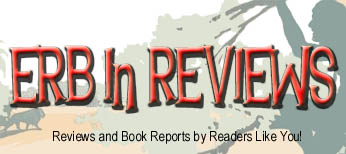 ERB Book Reviews
Edgar Rice Burroughs book reviews from fans like you.
A PRINCESS OF MARS
Reviewed by: Bruce Bozarth 1998-12-17
In 1911, a 35 year-old businessman penned a fantastic tale of adventure and romance while waiting for door-to-door employees to report sales of a pencil sharpener. There were no sales to report. In the meantime, however, Edgar Rice Burroughs wrote half of an extraordinary novel and forwarded it to a pulp magazine. Upon receiving encouragement from editor Thomas Metcalf, Ed Burroughs completed Under The Moons Of Mars and found himself in possession of a $400.00 check!
Central to the novel is John Carter, a Confederate veteran, who opens with a curious statement that he may be immortal, that he cannot remember any childhood and that he has always been an apparent thirty years of age. After that startling comment Carter then relates the events of his life following the end of the American Civil War. In 1865 Carter and fellow officer James Powell go west to prospect for gold in Arizona. They are successful in this endeavor but before they can capitalize on their fortune disaster strikes. Indians attack, taking Powell prisoner. Carter risks life and limb to rescue his friend. Fleeing a band of pursuing Indians, Powell dies and Carter is cornered inside a cave. Awaiting a savage death Carter is perplexed when the superstitious Indians withdraw. Moments later a strange lethargy paralyses Captain Carter. Unable to move, a growing panic fueling his will, there is a sudden break. Carter stands looking down upon his body. In the night sky outside the cave he sees the red eye of Mars. Looking upon that light, there is a moment of darkness and oblivion.
From this beginning Captain John Carter is transported from the desert land of Arizona to the desert sea bottoms of Barsoom. Carter is soon introduced to the Green men of Mars, six-limbed nomadic warriors standing 14 to 15 feet in height, equipped with tusks and weapons of barbarian appearance. Burroughs paints a dying world of intense and vivid color that is fully realized geographically, biologically, and socially. Carter's adventures among these frightful and fearsome beings includes his discovery of humans like himself, but red of skin and possessing scientific achievements beyond his own world.
Carter befriends a captive red woman, a princess of Helium, and the weight of his mighty sword arm is steadfast to her service. His self-appointed mission is to return Dejah Thoris to her people, yet at the same time he has found an admirable friend in Tars Tarkas, a Jed of the green Tharks.
Burroughs gives the reader an opportunity to experience the mysteries of an alien world and, at the same time, to view the best of humanity through Carter's diligence and honor toward a woman who eventually becomes his world. A Princess of Mars takes us from the dessicated ancient ruins of Martian cities following the receeding oceans of Barsoom where the green men hold sway to the vibrant civilization of the scientifically advanced red men. Yet, for all the technology that is apparent, we discover that the motivations and structures of each society are not so far removed from what we might find upon Earth.
John Carter carves his way across the face of Barsoom in the service of the woman who holds his heart, Dejah Thoris, A Princess of Mars.
---