---

---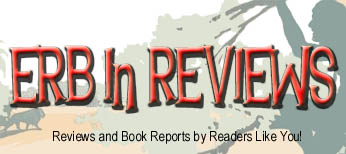 ERB Book Reviews
Edgar Rice Burroughs book reviews from fans like you.
THE WARLORD OF MARS
Reviewed by: Bruce Bozarth 1998-12-17
The final volume of the Barsoom opening trilogy, Warlord of Mars, carries forward from the cliff-hanger ending of GODS. John Carter, an earthling on Mars, continues to fight against enormous odds for the woman he loves and for his adopted nation of Helium.
Ed Burroughs carries the reader from one pole of Mars to the other and from one society to next. The contrasts between each serve as the vehicle for the fighting Virginian's fame and rise to recognition.
The Carrion Caves at the north pole and the fierce apt and orluk further detail the strange creatures which inhabit the dying world of Barsoom. Burroughs explores, well in advance of the psychological tortures common to the latter years of the 20th Century on earth, John Carter's strength of character and will as they are put to the test in the Well of Plenty. Carter's triumphs over evil are the meat and potatoes of legend, yet for all the earthling's ability, the future of Helium and Barsoom are in doubt.
The conclusion of the grand Barsoom opening trilogy sweeps across a fabulously detailed planet and is something you must read for yourself.
---