---

---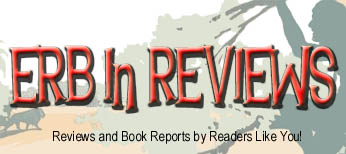 ERB Book Reviews
Edgar Rice Burroughs book reviews from fans like you.
The Moon Men
Reviewed by: David Bruce Bozarth 1999-08-21
This, of all the Moon novels by Edgar Rice Burroughs, is my favorite. In The Moon Men we have a dark and brooding tale that explores the worst of communism. The Moon Men was originally written by Edgar Rice Burroughs under a different title as an expression of his contempt for the Communists who had taken control of Russia during the 1917 Revolution, thus The Moon Men's authorship pre-dates the Lunar series' opening novel, The Moon Maid, by several years. Unable to sell the strongly anti-Communistic tale ERB originally envisioned, he re-worked the story to fit into his Lunar tales. And we, as readers of high adventure, have benefited immensely from his efforts!
There are two versions of The Moon Men. In the pulp editions we are re-introduced to the future Edgar Rice Burroughs who is on an arctic hunting expedition that goes seriously wrong. In the hardcover editions this opening treatment is left out. The remaining parts of the story, however, is very similar between the two versions. Julian 9th's tale is once again told by the Admiral who believes in Time and Incarnations. The Julian of The Moon Men is a young fellow enduring a harsh existence under the Kalkar invaders from the Moon. These invaders were brought to Earth by the traitor Ortis years before and their domination of the humans is nearly complete. Julian 9th has been raised by parents who secretly pass on the spirit of relegion and patriotism (American) in a world were following such symbols and belief are subject to instant execution.
Julian 9th meets the love of his life early in the tale, which is something different for a book by Edgar Rice Burroughs, but we are soon to understand that love is threatened by outside forces. Julian 9th uses every resource at his command to protect his woman and his family, though the odds are impossible.
The Moon Men is not a happy tale with a happy ending. Relating more of the events would spoil the novel for new readers. Those who have already read The Moon Men will have no difficulty following the above.
The Moon Men appears in several different printings: an ominbus with all three tales combined or as three separate novels. The three parts together consitute a single whole.
---