Third Annual Texas ERB Wake Report by Host TANGOR

Copyright © 2001

Photography by
Tangor's Digital Camera &
Thandar's Digital Camera
--various photographers
pressed the shutters

The Texas ERB Wake is an annual event in Bellaire, Texas. Fans of Edgar Rice Burroughs gather for a weekend on or near the anniversary of Burroughs' March 19, 1950 death to commemorate the life and works of the author who gave us Tarzan, John Carter, David Innes, and a host of other heroic characters during a writing career which began in 1911 and lasted until 1948. Several ERB novels were later published posthumously in the following decades, bringing this American writer's total output to nearly 80 novels. The Texas ERB Wake is a time of fellowship and good cheer, a time to meet and exchange thoughts and opinions, to eat barbecue and have fun. The Wake is attended by Texans, of course, but attendees come from all parts of the country to pay their respects and to partake in the fun and friendship ERB fans seem to universally share with each other.

Ghak called Friday morning around ten. He had arrived in Houston the day before the Wake and spent time with his family in Clear Lake. "I don't really expect anyone to arrive before late afternoon," I told him. Ghak's brother was also visiting the Wadding (not Waddington) homestead so I suggested they have some time together.

Mrs. T and I ran some errands during the day and returned home about 3:30 that afternoon. A quarter hour later I left to re-fuel the Texican's flier and, at the end of the driveway discovered Thandar in full barbaric splendor who had just arrived. He rode with me to fill the car, bought a soda, and we returned to the hacienda. Happy greetings were exchanged with Mrs. T then Thandar (Ken Fuchs--and if anyone has wondered, Fuchs is pronounced FOX) and I retired to the Texican's new Edgar Rice burrow--Tangor once had a mighty cave these many years past but that cave was turned into a music room and all books and collections and whatnots have been boxed up and hidden while the house is on the market.

I revealed to Ken that some of the eight (and marginal one more) expected attendees had unhappily withdrawn because of work or travel difficulty. Confirmed was him, me, and OJT. Spirits were not overly dampened as computer time, suggestions, practical demonstrations, and other seemingly magic Tangor tEchNoGeEk was shared--as well as happy chatter and catching up since the last Wake. Ken brought a virtually mint copy of James Van Hise's Edgar Rice Burroughs' Fantastic Worlds as a gift--one I was thrilled to receive since I had recently been looking for a copy. Ken was also wearing what is now the official Wake3 t-shirt which he had created. All the attendees have begged for one and the mighty Thandar has promised to provide.

Shortly after four Doris and I drove Ken over to the Roadway Inn on Holcombe to check in. We then took him on the "Ugly House Tour" in Bellaire and West University (including the "Darth Vader House") meaning we drove through the neighborhood gawking at the good, the bad, and the sometimes horrendously ugly new two and three story houses being built to revitalize the "inner city" (Houston area). Thandar enjoyed the glorious expanse of azaleas in full-bloom (we have a lot of azaleas in the Bellaire/Houston area).

Later, we dined on cold pizza from the 'fridge, chatted some more then retired (again) to the Texican's convoluted computer and began building a personalized for Ken Texas Wake Memory CD, including images, texts, and assorted MP3 music files Tangor has amassed over the last year. There was some conversation regarding music of past years and reading ERB and how the two seem to mesh on various levels.

At 11:30pm Ken and I departed the hacienda to pick up midnight arrival Jim Thompson (OJT) at Hobby airport--a 15 minute drive stretched to 12:05am. Expected to arrive at 11:55pm, OJT's flight did not land until 1:45am (Southwest Airlines for those compiling hate lists for air travel companies). Jim Thompson discussed current readings of some essays regarding Burroughs as we drove back to the hacienda, however, the hour was late and all were weary. We eventually arrived at the hacienda about 2:25. Shortly thereafter Ken and Jim (roomies) left for the hotel.
Saturday morning Ghak arrived at 10:00. Ken and Jim arrived soon after. At ll:30 we lunched at Prince's, a "burger joint," on Southwest Freeway; it being lunchtime and some had not yet had breakfast. Inspired by the 40's, 50's, and 60's memorabilia decorating the elaborately neon-lit interior (including a life size statute of Elvis near the doorway), lunch was filled with memories of personal yore and was quite leisurely. Tangor, the only smoker in the bunch, stepped out for a few minutes after the meal then returned to observe Mrs. T's titanic struggle with a "scoop" of ice cream in a cup as large as a beer cup at an Astros' game.
A book crawl followed, starting with 1/4 Price Books (to avoid finding the same thing at 1/2 Price Books later). Finds were made to personal satisfactions. We then attempted to locate the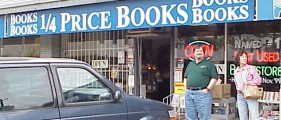 20,000 Books (paperback) store visited during the first Texas ERB Wake only to find it had been bulldozed to the ground and replaced with a Primco outlet. Our next stop was All Books on Richmond where we viewed a very good to near fine G&D Tarzan at the Earth's Core, in DJ (with the G&D catalog on reverse side of the DJ). Price: $110.00. Aside: No takers among the Wakers, but all agreed this was a nice find and the quality was good.
The afternoon waning, Tangor directed the group back to the hacienda because he had to load musical equipment for the evening's festivities and to allow folks to get email or run the 'Net on the Texican's network.
At 5:00pm I left the hacienda with guitars, amplifiers, speakers and gear to join the band at Int'l Rendezvous Cafe in Westbury Square a few miles south. While the band was setting up I have no idea what the Wakers did until they arrived around 5:45. By 6:30 or so the Wakers were dining on Ethiopian dishes, which seemed to be a hit for ERB fans and band members alike. Did I forget to mention Int'l Rendezvous Cafe was an Ethiopian restaurant?
Tangor's hobby band GREY FOXXE performed from 7 to 9pm when the Wakers departed. Tangor and band tore down equipment, leaving the restaurant and our gracious hostess Belie at 9:30.
Back at the hacienda (band equipment unloaded) we viewed Ghak's contribution to the Wake, the Coleman/Clampett 1936 animations for a projected
feature film which never happened. We also saw a delightful 8 minute student film entitled "A Picnic On Mars." The SDSU after some title credits were determined to be San Diego State University, which also fits the location terrain found in the film. If anyone has direct information regarding "A Picnic On Mars" as regards origin or production, please advise tangor@erblist.com . "A Picnic on Mars" is an interesting piece of film on several levels as it combines live action and Harryhausen-type animation, obviously done on a budget, but done rather well considering that budget. Look for full details on this film, including script dialogue, in a future OJT ERB-APA article.
Snooze time...
Sunday morning I had a happy call from Bob Hibbard about 8:45am letting me know his persona (Waldo) was driving down from Huntsville to join us for the Farewell Breakfast--which was nearer brunch than breakfast. Waldo actually arrived before Ghak, OJT and Thandar, which gave both Tangor and Waldo time to get acquainted. When all were gathered we took breakfast at the nearby IHOP--Ghak, OJT, Waldo, Thandar, Tangor and Mrs. T. The meal was leisurely and conversation good, sharing fan interest and real life with each other. Waldo fitted in so smoothly it appeared he'd been here all weekend!
For the first time in ERB fan history we are treated to the sight of Waldo Emerson Smith-Jones in "before" and "after" states. Waldo and Thandar, side by side!


After lunch we went to Mars. Yeah...you guys who've been following Wake reports know it's an old Wake Gag, Mars is the local music store, but does make for a great photo op! Mrs. T. entered the store and got t-shirts for all of us AND a couple of "Martians" (Mars employees) to pose with us. It did not matter that all the t-shirts
collected were SMALL--just one more adventure to be cherished and stored in the memory banks.

Ghak left us at Mars, anxious to be in time for a birthday dinner for his mother in Clear Lake. The rest of the Wakers returned to the Texican's hacienda to drool over the ERB goodies Waldo brought to show and share from his private collection, among which were:

Gene Roddenberry's Tarzan Script
A TOA first in Madison DJ
A G&D inscribed by ERB.
6 Blue Book Tarzan pulps
3 Amazing (Venus and Barsoom) pulps
1 Fantastic Adventures pulp
Beyond Thirty and Man-Eater first w/dj with Gil Kane autograph
Forgotten Sea of Mars
Heins Golden w/dj
Tales of Three Planets (MINT) w/dj with Roy G Krenkel autograph

...and some more things I forget, but suspect the ever diligent chronicler of Fan Events, OJT, will list in coming days. :)

I can be cajoled in burning a special WAKE3 CD for $10, including postage, if anyone is interested. Send email request to tangor@erblist.com with WAKE3 CD in the subject line.


Ken took photographs of everything Waldo brought down from Huntsville and Tangor made copies of all of Ken's digital images. Thandar looked at Tangor's digital images and he, as well as all the wake attendees, will get a burn of these images--sans the ones Mrs. T does not pass on for not showing her in the best light (grin), and some other ERB goodies the Texican has collected over the last year as well.

Just before 1:00pm Thandar said goodbye. La Grange, TX was his next stop to visit with family members for some genealogy research and perhaps a visit to a cemetary to provide facts for that research.

The weather, by the way, was GLORIOUS except for an hour of overcast afternoon and light rain on Sunday. And, in keeping with Wake tradition these past three events, the two days before the event were torrential rain,
high winds and ugliness--followed by delightful weather. Also in keeping with the Texas ERB Wake tradition we received a phone call from a distant fan who then becomes an attendee. This year it was Thoar (Steve Servello). Steve spoke to me, Bob, Jim, and Doris.
Ghak and Thandar departed, the Sunday book crawl began. The first stop, Brazos Bookstore, was a bust. The second stop, Dettering Book Gallery in the next block of Bissonnet, netted a 1929 T. Werner Laurie, Ltd edition of Before Adam by Jack London for Tangor, a 4"x6" (approximate) red cloth-bound volume at the exorbitant price of $8.50. And yes, dear Nkima, after reading the first chapter there does seem to be many interesting points as regards our favorite jungle fellow--I'll let you know what I think when I finish!
We ended the bookcrawl at Half Price Books, where OJT admirably restrained himself, leaving with two bags of books instead of three. :)
I showed Bob a like new Mars: The Home Front containing the Effinger Barsoom ERB tie-in, which he bought. I found Stableford's Dictionary of Science Fiction Places (OJT got one as well) which mentions Barsoom and Caspak. There were TWO of these volumes left in the store, so if anyone is looking for this Stableford let me know soon ($9.98).
While Bob and OJT talked in the living room Tangor frantically scanned Waldo's pulp covers as the hour grew late. Waldo, promising to keep in touch with the local Texas fans, and anticipating subscription to Thompson's ERBCOF-L list, loaded up his goodies and left near 6:00pm.
Tangor and Thompson retired to separate computers on the Texican's network and worked at email or imaging until Mrs. T. called dinner. She did not have to call twice. :)
Shortly after dinner Tangor had business commitments as webmaster for one of his clients. Mrs. T and OJT talked and TV'd, followed by one more round of checking email then bed.
Tangor slept really late Monday morning. We lunched at our local 60 salad items Souper Salad then drove north on 610 five miles to Memorial Park where the Houston Arboretum and Nature Sanctuary is located. We took one of the many trails through this large nature sanctuary, appreciative of the wonderful weather and bright sunshine--though not too much of the later made it through the dense forest canopy.
At 2:00, keeping OJT's 4:20 departure time in mind, the expedition went in search of topiary gorillas Tangor thought he'd once observed near the wilds of River Oaks. We found topiary dancing bears, peacocks in full bloom, an elephant, dinosaur, long horn steers, but no topiary gorillas. OJT was forced to settle for topiary chimps and monkeys. "Those are small enough you could take one on the plane!" suggested Mrs. T. OJT politely declined, he was, after all, interested in gorillas. :)
Alas, time ran out--we picked up OJT's bags from the hacienda and dropped the last ERB Waker off at Hobby with minutes to spare.
The best part was, after Tangor extracted the heavy suitcase from the trunk for OJT, who rolled his suitcase filled with book treasures discovered during Wake book crawls to the lobby entrance, was the Tennesseean's last and most generous "tip."
"There's a penny on the ground. Pick it up."
I did--and with that came an end to the Third Annual Texas ERB Wake.